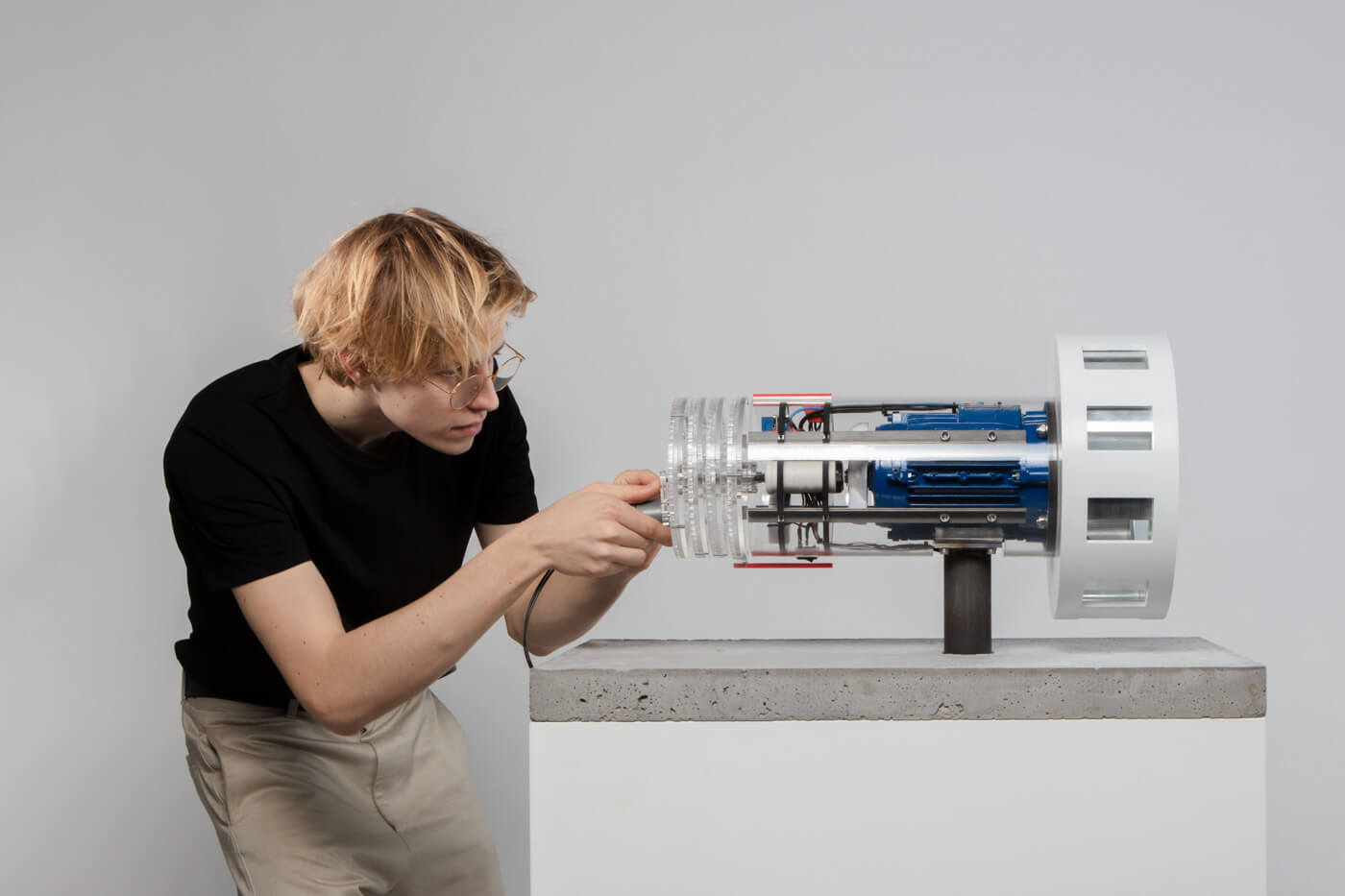 Felix is a research-led artist, designer and filmmaker based in Vienna.
His analytic investigations in geopolitical, ecological and technological matters translate in meticulous visual outcomes, installations and strategies.
Reach out for collaborations, freelance jobs, and all kinds of exciting projects!
mail@felixlenz.at
Bio
Felix Lenz's video works and installations have been exhibited at various international museums, festivals and biennials including the Beijing Art and Technology Biennale, Ars Electronica Festival, Digital Art Festival Zurich, European Forum Alpbach, Biennale Warszawa, the Istanbul Design Biennale, the Vienna Biennale and the London Design Biennale and are part of the permanent collection at the Museum of Applied Arts Vienna. His works were awarded an honorable mention from the UN Department of Political and Peacebuilding Affairs, were nominated for the STARTS prize and received an honorary mention at Prix Ars Electronica. Lenz' works have been profiled in the New York Times and various other journals.

Besides his independent practice he worked at the renowned design studios »Formafantasma« in Amsterdam and »Studio Folder« in Milan. He also worked as guest-researcher and -lecturer at Humboldt University's Cluster of Excellence »Matters of Activity« in Berlin and was invited for guest-lectures at the Royal College of Art London, the Design Academy Eindhoven and the University of Applied Arts Vienna. Lenz was a residing artist at the Viennese artist space »Never at Home« and currently finishes his masters in »Design Investigations« at the University of Applied Arts Vienna.

For further insights into my practice see my interview with Bohema Magazine [article in German].
Awards, Talks & Teaching
Workshop – Solarweb
Patchlab Digital Art Festival

Krakow, 2022

Lecturer – Labour & the High-Tech Industry
Biennale Warszawa

Warsaw, 2022

Guest lecturer & workshop – Media Technologies II
Universidad de Buenos Aires – Open Design Master

Online, 2021

Speaker – panel discussion »Artistic Journalism«
Ars Electronica Festival – A New Digital Deal

Linz, 2021

Honorary Mention – Prix Ars Electronica 2021
Artificial Intelligence & Life Art

Linz, 2021

STARTS Prize 2021 Nomination
Science, Technology and Arts

Linz, 2021

Guest lecturer »research & design«
Royal College of Art London – ADS7

Online, 2020

Honorable Mention – Futuring Peace
UN Department of Political and Peacebuilding Affairs & the Design Futures Initiative

Online, 2020

Speaker – panel discussion »Speculative Activism«
Vienna Design Week

Vienna, 2020
Exhibitions
Where is My Friend's Home [upcoming]

Hyundai Motor Studio Busan

Busan, South Korea, 2023

Solar Protocol online exhibition

solarprotocol.net

Online, 2023

Night Shift

Red Carpet Art Award, Altes Landgut

Vienna, 2023

Beijing Art and Technology Biennale

CAFA Art Museum

Beijing, 2022

Vienna Design Week

Design in Gesellschaft

Vienna, 2022

ReiseBüro – The ism in Tourism

Quartier am Hafen

Cologne, 2022

Biennale Warszawa

Warsaw, 2022

Young Curators Club – Projection

Never at Home

Vienna, 2022

Paadmaan Video Event

Paadmaan art space

Tehran, 2021

DA-Z, Digital Art Festival

Kunstraum Walcheturm

Zurich, 2021

Stretching Materialities – Hidden Activities in Objects and Spaces

Veterinary Anatomy Theater

Berlin, 2021

Ars Electronica Festival – Cyber Arts

Offenes Kulturhaus

Linz, 2021

Angewandte Festival 21

University of Applied Arts

Vienna, 2021

Futuring Peace

UN Department of Political and Peacebuilding Affairs & the Design Futures Initiative

Online, 2020

Vienna Design Week

Vienna, 2020

European Forum Alpbach

Online, 2020

Ars Electronica Festival – In Kepler's Garden

JKU

Linz, 2020

Perspektiven Attersee

Attersee am Attersee, 2020

Angewandte Festival 20

University of Applied Arts

Vienna, 2020

MAK Design Lab [permanent collection]

Museum of Applied Arts

Vienna, 2019

Angewandte Festival 19

University of Applied Arts

Vienna, 2019

4th Istanbul Design Biennial – A School of Schools

Yapi Kredi Culture Center

Istanbul, 2018

London Design Biennale – Emotional States [representative studio for Austria]

Somerset House

London 2018

Vienna Biennale – Robots. Work. Our Future

Museum of Applied Arts

Vienna, 2017

Angewandte Innovation Laboratory

Vienna, 2017

MyData Conference

Tallinn & Helsinki, 2017

PrivacyWeek Vienna

Vienna, 2017